Mortal Kombat 1 is fast approaching and with most of the focus on the gameplay and roster, both main fighters and kameos, you would almost forget the stages and environments we are going to be fighting in and even exploring in the recently revealed 'Invasions' mode. Turns out, NRS didn't forget and made sure we are all well aware of the level of detail, color and realism that truly makes each one pop and look stunning in the process.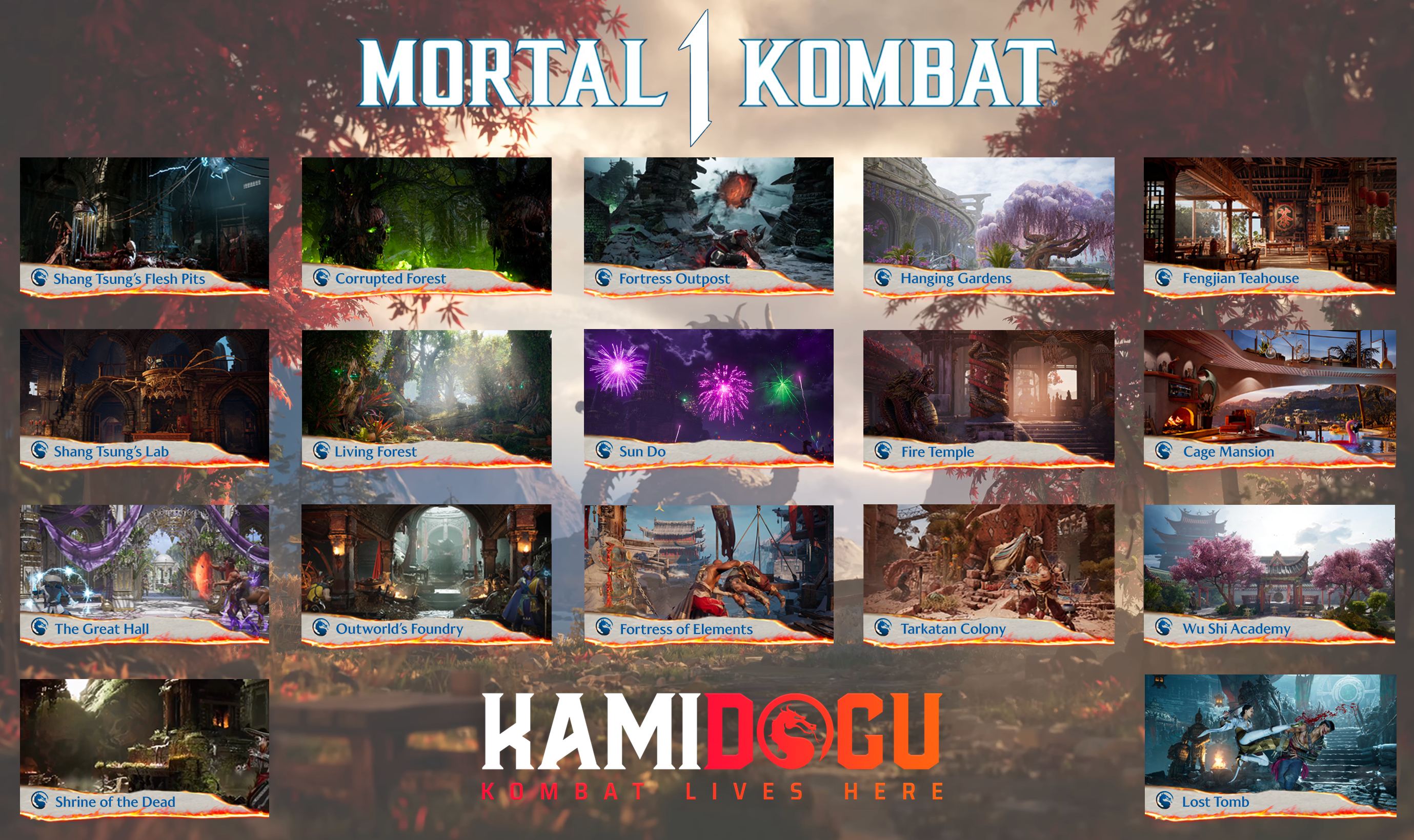 In the stages overview you can see there are 17 stages that have been shown off so far, 10 of which we know the names. While the rest of the names are merely speculative, the classic re-imagined ones likely bare the same name, while others like the Fortress of Elements is plausible as it could be harboring the Temple of Elements.
Back to the Roots
Since the announcement trailer back in May, one of the main talking points was the environments shown off in it. We saw what we all assumed was Edenia where Mileena and Kitana were in a carriage, a small village where Raiden and Kung Lao were shown working the field and a tea house. The Asian aesthetic was a welcome return, as well as finally seeing Edenia – even if it's called Outworld for now – which also had some Asian inspired structures in the background. What truly stood out was the serenity and beauty of it all, drawing similarities to one of the best looking games out there in Ghost of Tsushima.
It all made the fans who've been around since the beginning nostalgic as the very first Mortal Kombat game was predominantly set in a palace and it's surroundings in what seemed like a South-East Asian country. There was of course Goro's Lair and the bottom of The Pit for those who looked up to La Luna and managed to get down there. Still, The Pit itself was just a bridge at night, but even if you found that a scary, dark setting, that left 4 out of 6 bright and peaceful stages. So while the very first game always had what most would now truly associate with the quintessential essence of Mortal Kombat, the peaceful setting was predominant as it is with Mortal Kombat 1 today. We've come full circle.
Beautiful and peaceful Mortal Kombat?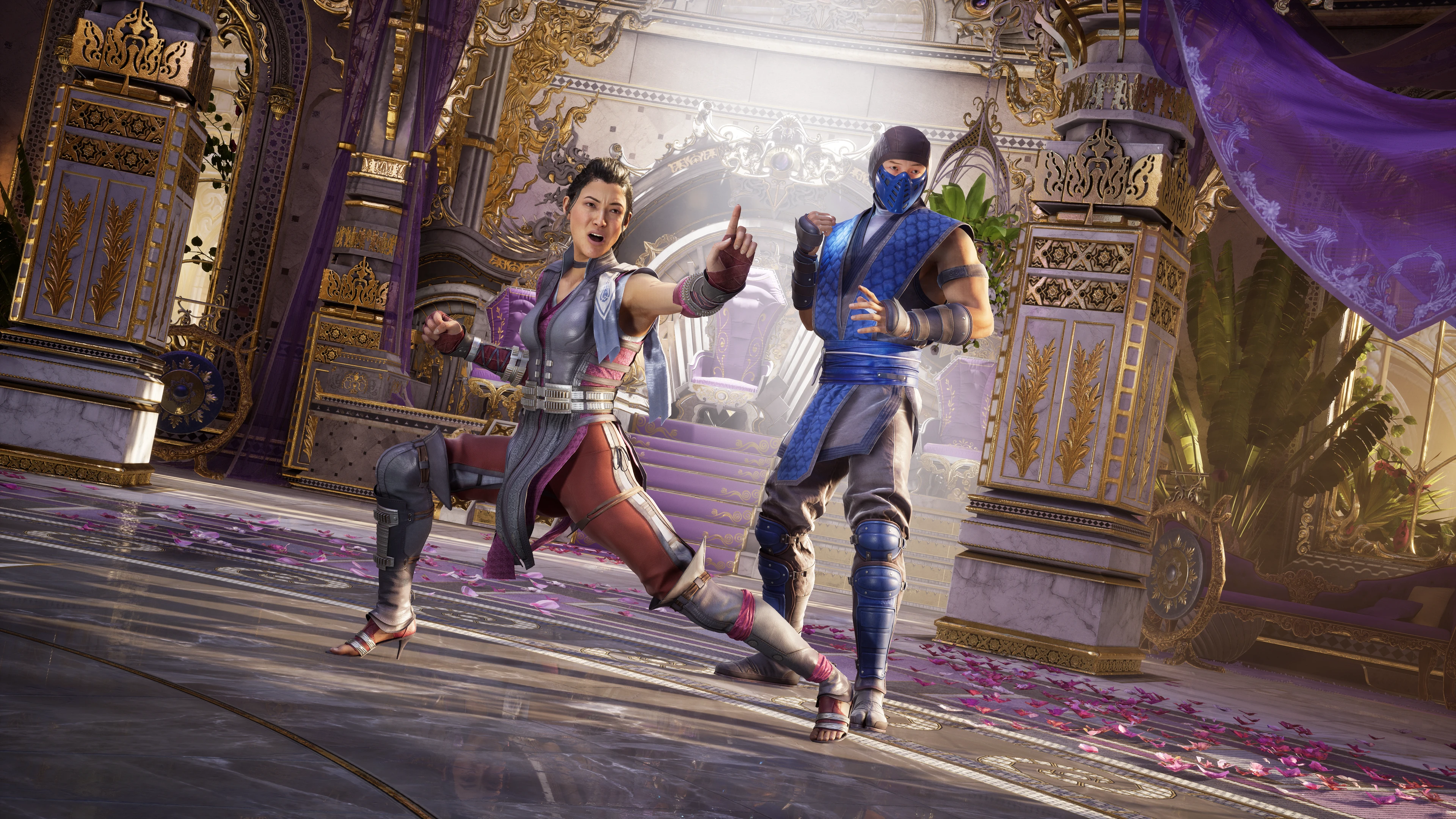 With today's realism, more gruesome looking fatalities, darker overall tone and aesthetic – especially Mortal Kombat X – it was a pleasant surprise to have this Garden of Eden like setting. The Hanging Gardens as a reference to the biblical Babylon are definitely not a coincidence. The announcement trailer wasn't to throw us off either, as it carried on with the initial gameplay trailer shown. More than a handful of bright stages made their entrance, even a peaceful, seemingly happy Living Forest. We had the ability to immerse ourselves in two of these environments, the aforementioned Teahouse and Johnny Cage's stunning Malibu beach house. This did not necessarily scream Mortal Kombat. As beautiful as it all was, it felt as quite the departure from the norm and left people wondering: when will we actually get some darker stages, if at all?
As the footage and reveals kept coming in, there was little time to dwell on this question. The characters showed off flashy combos, colors popped all around, Fatalities and Fatal Blows were insane and unnerving as ever. It all was very clearly, unequivocally still the Mortal Kombat we've come to know and love. And who could complain with a classic like the Wu Shi Academy returning in full glory, a snowy blizzard stage set in what seems like a Fortress and Sun Do with fireworks going off at night. Just an explosion of colors against a beautiful purple backdrop. That's right, Purple Outworld is back, even if Kung Jin was somewhat right. All in all, it's been a feast for the eyes. Everyone has had to admit, the stages have been the best they've ever looked.
The contrast between the bloody battle in the foreground and temples, trees with green eyes, treasure chests, red and pink leaves on trees that could've come straight out of a Harry Potter or Lord of the Rings fantasy world in the background, was for a part of the fanbase long overdue. It of course helps that it is all breathtaking, but let's not forget about the plain desert Outworld got turned into, that the Special Forces – and Kano – were a determining factor in where battles took place as well as the Injustice influence on the overall aesthetic. Mortal Kombat 1 even without some of the darker stages felt like it managed to capture the essence more than the past two games, at least for some.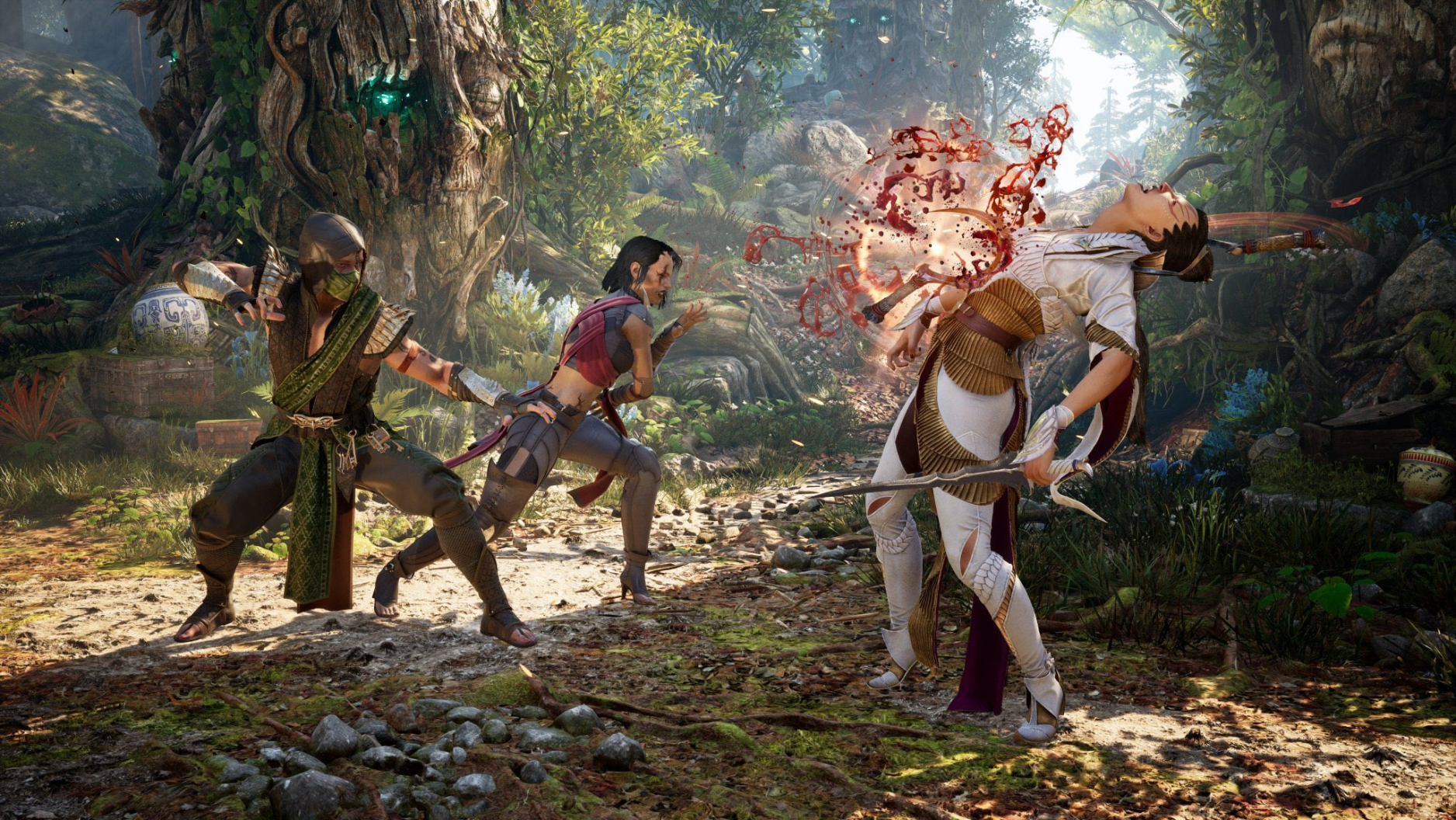 Dark and Kreepy environments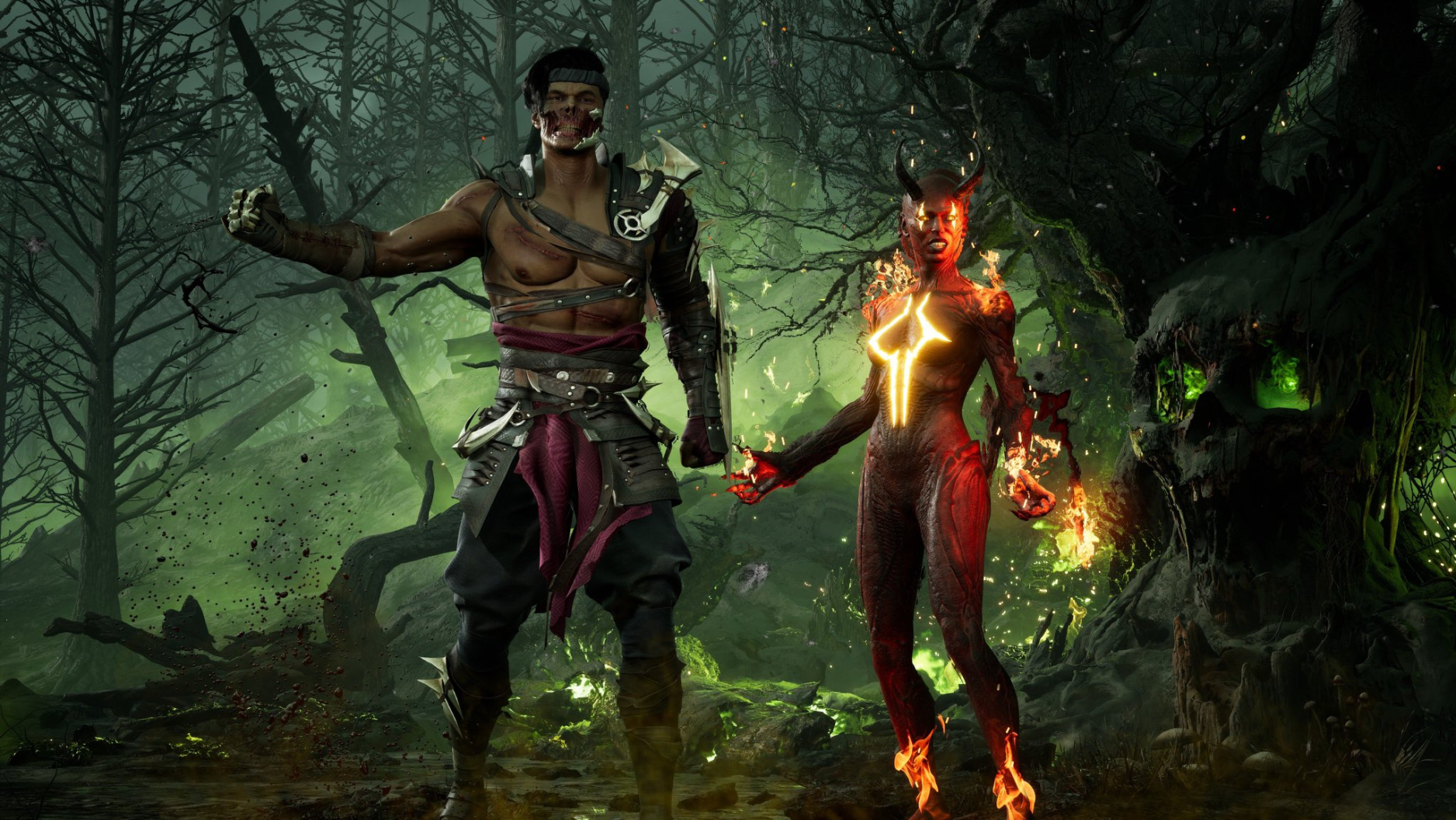 Two months since the reveal we had caught glimpses of the dark side, like the stormy version of the Living Forest, a Foundry, a dungeon like interior stage with skeletons and sketches of Centaurs – reminiscent of the Balcony – and the chair where Mileena turns Tarkatan present. So it wasn't like that part of Mortal Kombat was gone. And to those who were paying attention, it became obvious they were leaving the reveal of the darker, evil and or antagonistic characters for later as it seemed inevitable Reptile, Reiko, Motaro, General Shao, Sindel and of course Shang Tsung were going to be revealed as either playable or as a kameo fighter. They would surely be accompanied by stages fitting to their character.
Then finally we got what we were hoping for. Any questions we had, were answered with the 'Banished' trailer. Boon even took to Twitter to comment on the return of stages that are truly creepy, evil and what most had come to expect from Mortal Kombat. A return to Shang Tsung's Flesh Pits where a seemingly good Reptile is hanging out was nice to see. Havik and a green skull fired – by what most assume is going to be Quan Chi – at a more demonic looking Ashrah in a Corrupted Forest with dead trees all around even more so, since a lot of people had been waiting for the more classic scary Living Forest. The most recent 'Rulers of Outworld' trailer also did not disappoint with a darker version of the Fortress stage, where even some mysterious Eye of Sauron like portals were shown.
Reveals puts spotlight on Stages
With each stage getting a variant, there was always a chance that the version we were shown would have a yin to the yang. And we still have quite some stages and or variants left to be revealed. There are 3 stages unaccounted for as of right now. On top of that we have a few left to be shown off during gameplay as the 'Banished' trailer came with an official screenshot that revealed the Lost Tomb. We had also seen the Dragon King's army from Deadly Alliance and Deception in the 'Lin Kuei' trailer, but now the setting revealed a clear view of Shinnok's amulet and the army as statues, confirming another stage from Deadly Alliance.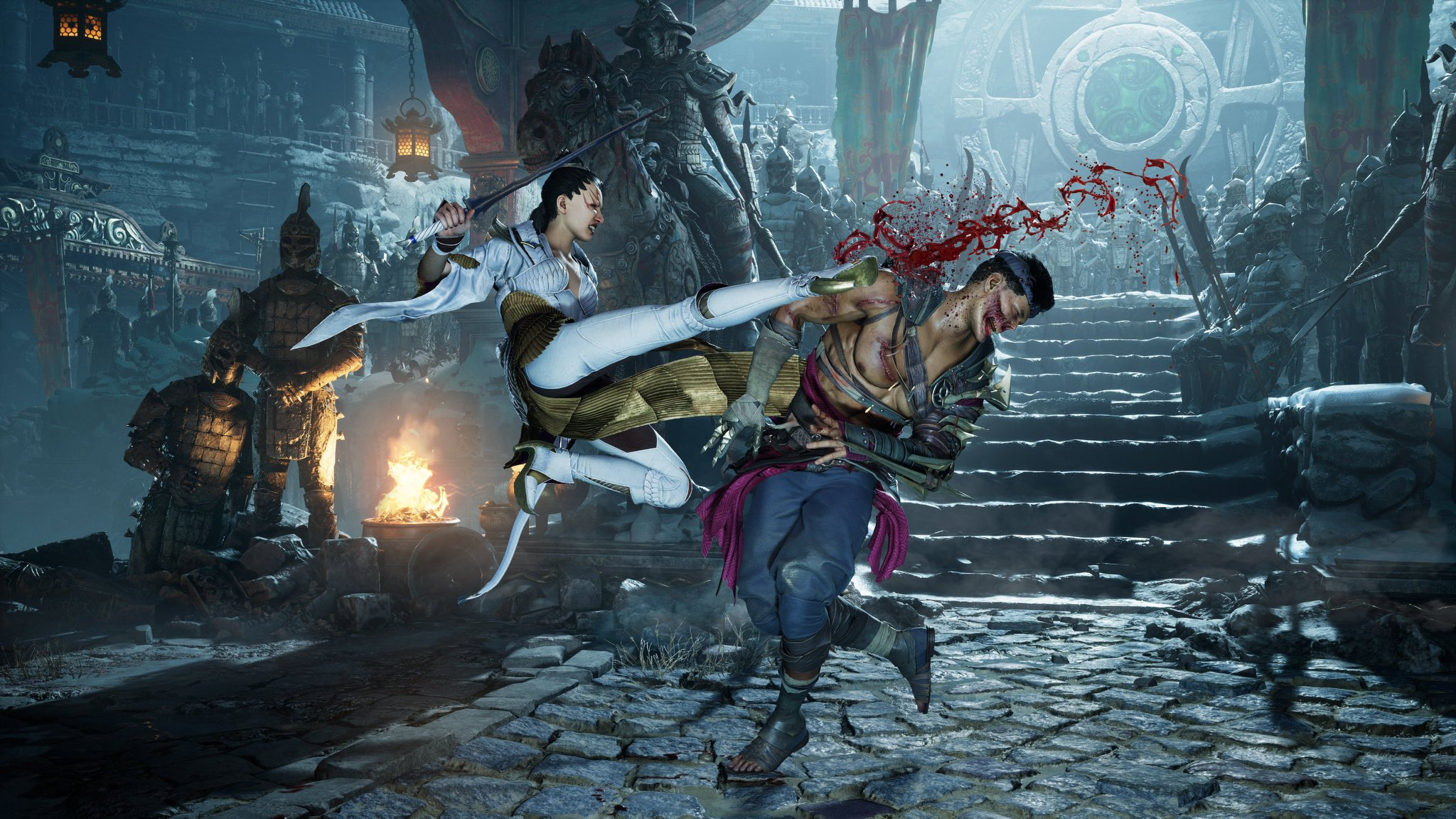 The Flesh Pits shown off at the very beginning of the 'Banished' trailer was confirmed to be a stage by Thiago Gomes, Lead Environment Artis at Netherrealm Studios in the second Kombat Kast, but we've yet to see that in action as well. Another potential dark stage is a cave with a shrine and potential place of worship as a giant skull makes up part of the walled structure that was revealed on Tiktok. The stage served as a backdrop to seeing Sub-Zero in action with an exclusive skin, honoring Día de Muertos (Day of the Dead), that Latin American players will get if they pre-order the game by September 18th. In short, enough to look forward to for both those who love this new era's more peaceful Outworld, and those who prefer the more dark side of Mortal Kombat.
With Mortal Kombat 1 it seems that for the first time since they had some bio videos for a handful of stages with Mortal Kombat 9, there's a conscientious effort and focus on the stages again. And rightfully so. The feedback must have been overwhelmingly positive and with the amount of work and detail that has gone into the 20 stages and their variants, it's surely something they can be proud of and maybe has prompted them to reveal stages with a beautiful image, the name and a small bio that also reveals what we can expect from the two variants. So far they have officially revealed 8 out of 20, with some consistency at least, so let's hope this carries on as they could do all by September 19th easily if they keep this pace up.
What do you think of the stages of Mortal Kombat 1 and NRS surprising image reveals since two weeks? Be sure to join our incredible kommunity by joining our Discord server and following us on our social media accounts, which include X, Instagram, Threads and YouTube.