After almost a month without a single new biography,
Midway
have finally released the sixteenth
Mortal Kombat: Armageddon
biography, this time belonging to Nitara.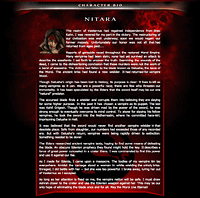 The realm of Vaeternus had regained independence from Shao Kahn. I was revered for my part in the victory. The restructuring of our civilisation was well underway; soon we would regain our former majesty. Unfortunately our honour was not all that had returned from ages past...

Reports of genocide raced throughout the restored Moroi Empire. Many vampires had been slain; none had yet survived an attack to describe the assailants. I set forth to uncover the truth. Examining the wounds of the dead, I came to the disheartening conclusion that these murders were not the work of a band of assassins. The victims had fallen to the blade known as Datusha, the bane of the Moroi. The ancient kriss had found a new wielder. It had returned for vampire blood.

Though Datusha's origin has been lost to history, its purpose is clear: It lives to kill as many vampires as it can. We are a powerful race; there are few who threaten our immortality. It has been speculated by the Elders that the sword itself may be our one 'natural' predator.

The accursed blade finds a wielder and corrupts them into believing they are slaying for some higher purpose. In the past it has chosen a vampire as its puppet. The last was Kahil Grigesh. Though he was driven mad by the power of the sword, he was strong enough to eventually overcome its mind control. To atone for slaying his fellow vampires, he took the sword into the Netherrealm, where he committed hara-kiri, imprisoning Datusha in Hell.

It was believed that the sword would never find another vampire wielder in that desolate place. Safe from slaughter, our numbers had exceeded those of any recorded era. But with Datusha's return, vampires were being rapidly driven to extinction. Something needed to be done!

The Elders researched ancient vampire texts, hoping to find some means of defeating the blade. An obscure Edenian prophecy they found might hold the key. It describes a force of great power concealed in a crater there. I was commanded to find this power and use it against our foe.

As I made for Edenia, I came upon a massacre. The bodies of my vampire kin lay everywhere. Amidst the carnage stood a woman in white wielding the unholy kriss. Enraged, I did battle with her — but she was too powerful. I broke away, luring her out of Vaeternus as I escaped.

As long as her attention is fixed on me, the vampire nation will be safe. I must draw Ashrah closer to the crater and use the Edenian weapon against her. This may be our only hope of eliminating the blade once and for all. May the Moroi Live Eternal!