Initial work on Kamidogu began in August of 2005, when the site began its conception on a notepad. Soon thereafter it was slowly built from the ground up by its founder and sole staff member at the time, Christopher Veljanovski.
Fans already had access to a vast wealth of Mortal Kombat information, though it was spread over a number of sites. The eventual goal of Kamidogu was to provide the most complete and informative resources in the one place. The site was later renamed Mortal Kombat Blackout and given an entirely new layout in June 2008, but was reverted back to its original name in September 2009.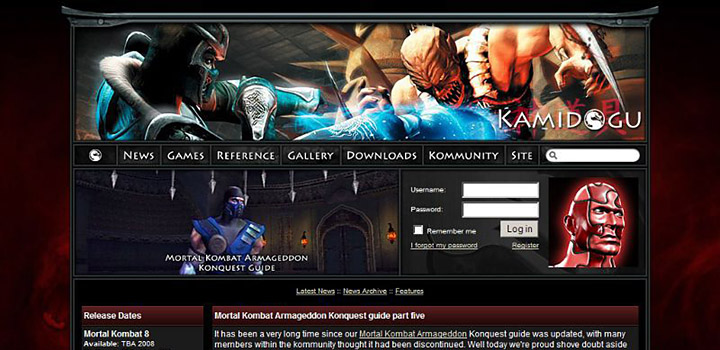 Mortal Kombat stunned the world of video gaming in 1992, when gamers got their first taste in arcades around the globe. With its alluring graphics made up of digitised actors and gruesome nature, there was no doubt that its four man development team had created something special.
One of its co-creators, Ed Boon, has remained with the series for its entire existence, which has seen countless sequels and has even been made into motion pictures and television shows. Almost three decades later, Mortal Kombat and the studio that brought it to us (Chicago-based NetherRealm Studios) are as strong as ever. While originally founded as a Mortal Kombat site, the studio's release of Injustice: Gods Among Us in 2013 has influenced our evolution into one based on the studio itself.
First opening its doors to the public on 1 December 2005, Kamidogu began with very little content. Since then, it has amassed into one of the Internet's richest NetherRealm Studios resources, with comprehensive in-depth strategy guides, exclusive content, high profile interviews and a kommunity fan base that grows daily.
In 2010 Kamidogu extended its reach by releasing a dedicated app for iOS, allowing those on the move to access an optimised version of the site's resources from their iOS device. A couple of years later the app was discontinued with a vision to support a wider range of devices.
2016 saw the overhaul of Kamidogu's strategy, with a completely revamped mobile-friendly web site and an increased social presence. This strategy has continued to evolve, and in 2019 Kamidogu migrated to a brand new format in the hope that it can better engage with fans.
2021 saw the launch of the Kamidogu Podcast in a bid to remain relevant in an ever-changing digital landscape. While we are only getting started, we are incredibly proud of the content we have been able to deliver thus far. Aside from a number of reviews and discussions pertaining to fan projects, Kamidogu has interviewed a plethora of guests including (in order of appearance): John Turk, Adoni Maropis, Lia Montelongo, Kerri Hoskins, Spitfire Brown, Richard Divizio, Bruce Locke, John Parrish, Brian Thompson, Wilbert Roget, II, Jeffrey Meek and Ludi Lin, with many more to come.
It is our hope that Kamidogu continues to flourish as one of the Internet's premier NetherRealm Studios resources.
Special thanks to…
The team at Midway Games and NetherRealm Studios for pouring their heart and soul into so many incredible titles, and for their ongoing friendship and support over the years
Mortal Kombat Warehouse for allowing us the use of many of their ripped assets spanning the 2D and 3D eras
The following individuals who have helped out in various ways over the years:
Christopher Afflick, Markus Anstey, Alisa Bartram, Matthew Cox, Tahiri Jordan Craig, Luke Cunningham, Da Island Boyz, Justin Deering, Jamie Dull, John Frey, Aaron Hobbs, Paul Kerry, Patrick McCarron, Jasper Piena, Dave Rosteck, Thomas Stockley and Joseph Strianese
In Memoriam
Bobby, Stevan, Michael, Peter, Stojna, Snoopy, Billy and Lucie.