Ed Boon has given us MUCH to consider for the impending announcement coming from NetherRealm Studios about their next proper console game.
In a series of "Ask Me Anything" sessions on his twitter account he has coyly been dropping as many hints as he can without giving away the goose (sort-of -speak) too early. It can be difficult to parse through all the information, separating the actual nuggets of knowledge from the unrelenting masses who constantly ask "When is the next game?" In spite of Boon's insistence that he can't and won't answer such questions. That is why I am here today, because I have done all the parsing for you, and now we MUST talk.
Session #1 – September 23
In this AMA, Boon teased that Tremor could be a likely character in future games. Tremor, who was introduced as a playable character in Mortal Kombat: Special Forces, is a fan-favorite known for his powerful earth-based attacks. Boon has not yet confirmed whether or not we can expect to see him in MK12, but his inclusion in future games would be a welcome addition for fans.
Aside from that not much in the way of legitimate clues for the next game was discussed by Boon.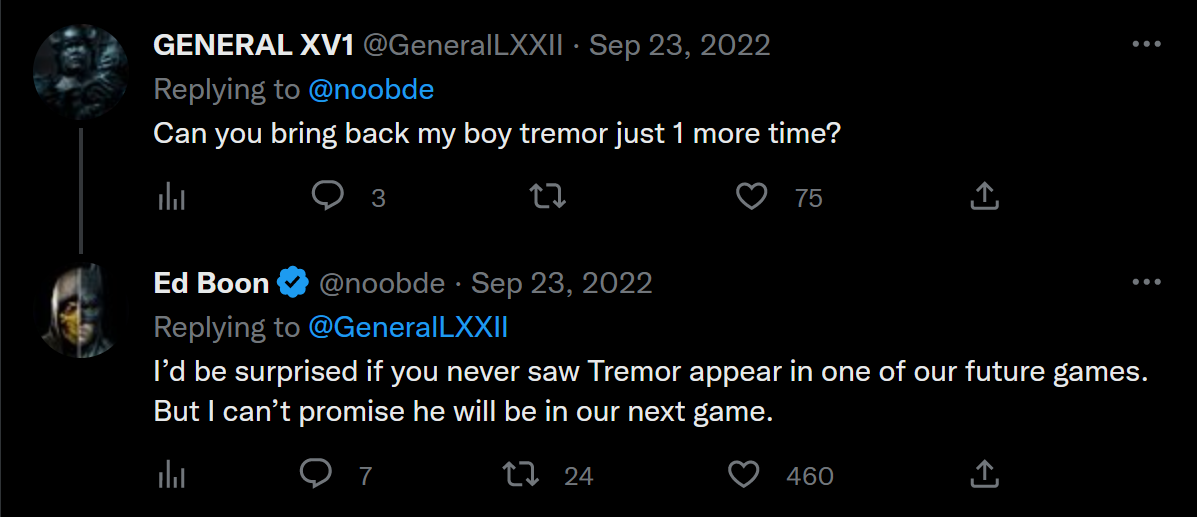 Session #2 – September 26
Here Boon confirmed that there is more than one game currently in development at NetherRealm Studios. This is exciting news for fans, as it suggests that the team is working on multiple projects and not just the next installment in the main series. It also opens up the possibility, when coupled with the specter of a potential sister studio, of spin-offs or new game modes that expand on the Mortal Kombat universe.
We now know that at least one of those other games is the mobile only Mortal Kombat: Onslaught set to release fully some time later this year.
Session #3 – October 3
One of the most exciting pieces of information to come out of this AMA was the confirmation that one of the Khameleon characters (or possibly both), as well as Havik, will be included in a future game, likely Mortal Kombat 12. However, Boon also confirmed that the game will not include a tag team mechanic. Boon also mentioned a possible pink ninja named Floyd, this may have just been a troll from the troll master himself. Remastering of the 3D era Mortal Kombat games also seems to be on the table.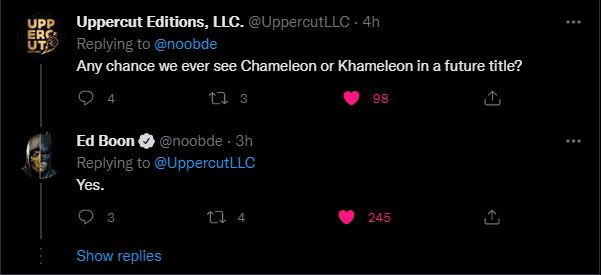 Boon also confirmed that NetherRealm Studios is working on multiple new projects, not just the next Mortal Kombat game. Injustice 3 also seems to still be in the works, though Boon implied that the uncertain future of the DC movies and non-comic universes may be affecting the possibility of future Injustice games.
Krome is NOT a priority… and probably won't happen. There is a legal reason for this that History Behind The Warrior covered in great detail https://youtu.be/x5-O7axcPOI.
We also learned definitvely that Quan-Chi, another fan favorite character, is only "comic book dead" meaning he will likely return in a future game.
Session #4 – October 10
This "Ask Me Anything" session was mostly filled with fans asking Boon about his day and not much, or any, information about the next Mortal Kombat game was shared.
Session #5 – November 12
Boon dropped some exciting information here, hinting heavily that the next game in the series would be Mortal Kombat 12. He regularly responded to questions about the game with the letter "k" instead of "c" in the spelling of words, and seemed to be not-so-subtly winking at what the community already knows. Boon also mentioned that NetherRealm Studios may be looking into creating a second or sister production studio.
Not directly related to Mortal Kombat, but Boon also mentioned that the studio will be using Unreal Engine 5 for future games and expressed his desire for a Shaolin Monks remaster. Additionally, Boon opened the door for another Konquest mode similar to the one in Mortal Kombat: Deception, and hinted that the dynamic between the Black and Red Dragon clans will make a return.
Session #6 – November 19
In this session, Boon mentioned a new Konquest mode, again, while simultaneously shooting down the idea of a remaster for Mortal Kombat: Deception. Otherwise, November 19th was mostly uneventful.
Session #7 – December 10
Tremor seems to be a shoe-in for MK12, while Moloch and Drahmin appear to be relegated to MK memory and not much for future games. Boon also implied that the regular order of Injustice and MK games will be changed and cast doubt on the possibility of any future Injustice titles.
When asked about Tanya, Boon's response not only appears to confirm her existence for MK12, but also gave heavy implication that 12 will in-fact be the next game from NRS. Boon also dropped hints about other characters potentially being included in MK12. Characters such as Skarlet and Reptile are likely to be in the game, while Kabal's inclusion is less certain.
Boon also dropped hints that the reveal of the next game should officially happen within the next 6 months, and many other not so subtle references to the number 23. Some fans speculate that February 3rd will be the date of the reveal, but it's more likely that the number 23 references are simply the year in which the reveal will happen. E3 is likely the target goal for the reveal of MK12.
Personal Speculation
What seem to be logical conclusions for this future NetherRealm Studios next release are as such:
– Mortal Kombat 12 is probably the game to be announced.
– It will be announced this year, likely at E3.
– Likely returning kombatants to be included aside from series staples are Tremor, Tanya, Reptile, Khameleon, Skarlet, and possibly Kabal.
– Konquest Mode also seems to be somewhat likely.
Aside from this everything else is wild speculation, however fun that may be.
As the Mortal Kombat community continues to speculate and analyze every word from Boon, one thing is clear: the next game in the series is shaping up to be something truly special. With so many hints and clues, it's only a matter of time before we finally get an official reveal of MK12. And when that day comes, it's sure to be one of the biggest events in the history of the franchise.