Seventeen years after her last appearance, Ashrah is finally back in a Mortal Kombat story. Was the wait worth it?
The short answer to the question above is: not really. There are many arguments to be made regarding the return of the 3D-era characters, and believe me, I know most of those characters had a worse fate, lore-wise. But Ashrah is my favourite, the lady of my heart! So, I had to write this to analyse, for myself and others who might be interested, her participation in the story of Mortal Kombat 1.
(From here on, there will be spoilers for the story mode, arcade towers, and intro dialogues!)
We are first introduced to Ashrah at the end of Baraka's chapter. After escaping Shang Tsung's laboratory, our heroes cross the Living Forest, where they meet this "femme fatale" single-handedly killing a bunch of Tarkatans before mistaking Baraka and Reptile for demons and attacking them as well.
Once the misunderstanding is cleared, what follows is a surge of exposition on Ashrah and Quan Chi. And then we have more exposition as our heroes agree to help Ashrah stop Quan Chi – who is nearby, crafting his soul stealer.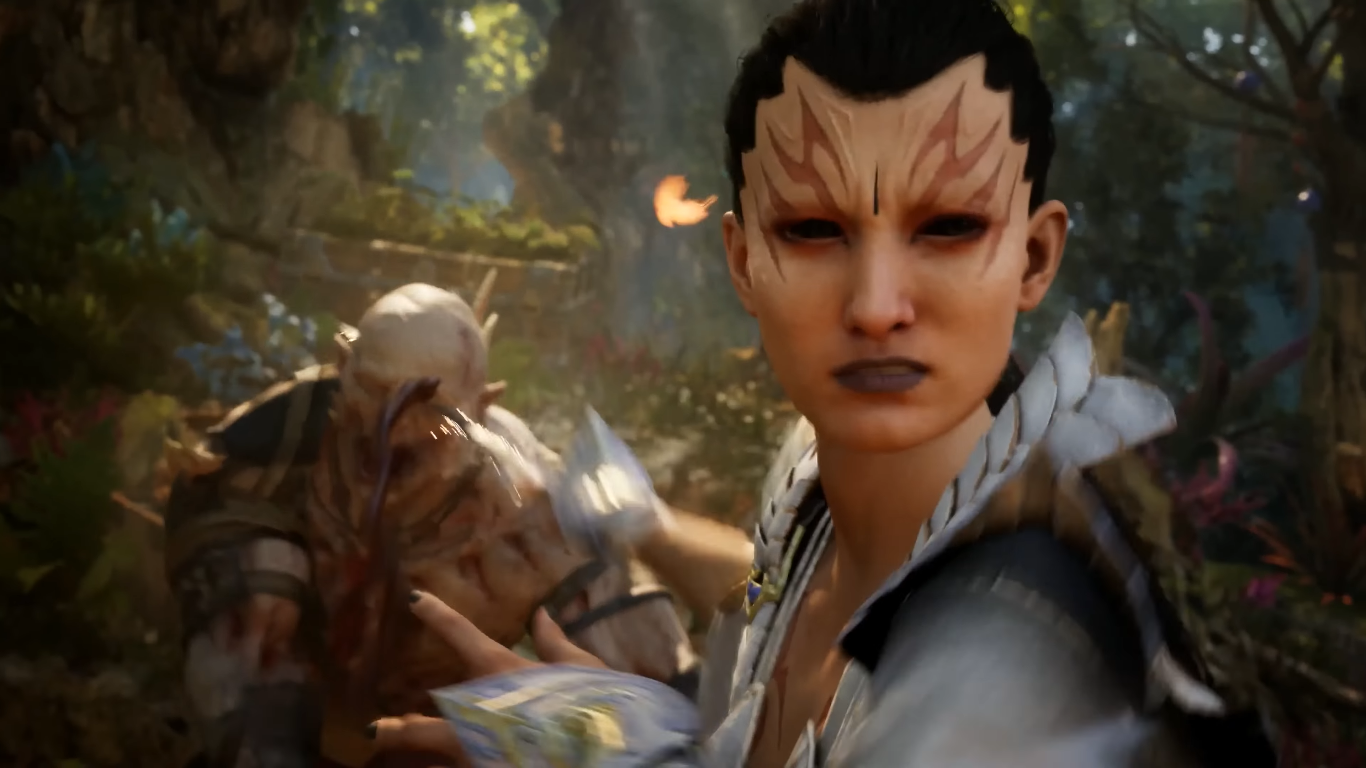 Here is one of my issues with Ashrah's role. If we are being cynical (or realistic), we might argue that her sole purpose in this narrative is to tell our main characters about Quan Chi and guide them to their next step.
The problem isn't even with the exposition itself. NetherRealm had to convey certain lore elements and Ashrah served as their instrument, which is fine. The problem arises when her chapter provides no tangible conflict, no character development. When analysing why I had disliked her chapter so much, I asked myself: if anyone else had done what Ashrah did, would it significantly affect how the events unfolded?
It would not. You could have Kung Lao defeating Quan Chi, and the result would have been the same. Johnny could have destroyed the soul eater, and nothing would have been lost. Compare it to Scorpion, who has to fight against his brother; Li Mei, who finally attains her "redemption"; or Mileena, who reunites with her father, starts using her Tarkatan skills to defend her loved ones in battle, and to top it all, loses her mother and is crowned Empress. Ashrah has nothing. It is odd how detached she feels from everything. She challenges Quan Chi and his "minions," proudly tells of her purification, but there is no weight behind any of that. Because the emotional charge of her chapter is not on her. It is on Kenshi.
What stayed with me from that chapter was the moment Johnny gave Kenshi the sword, and then the moment Kenshi connected with Sento. Then Ermac's creation. Then the destruction of the Living Forest. Then, finally, the moment when Ashrah is all happy for having been invited to Earthrealm.
Do not get me wrong, that is a lovely moment! But it feels unearned. "Cute" is a personality trait, not character development. And if a character is only known for being "cute," especially a character whose inner conflicts should easily give her a dozen other layers of complexity, then something is terribly wrong.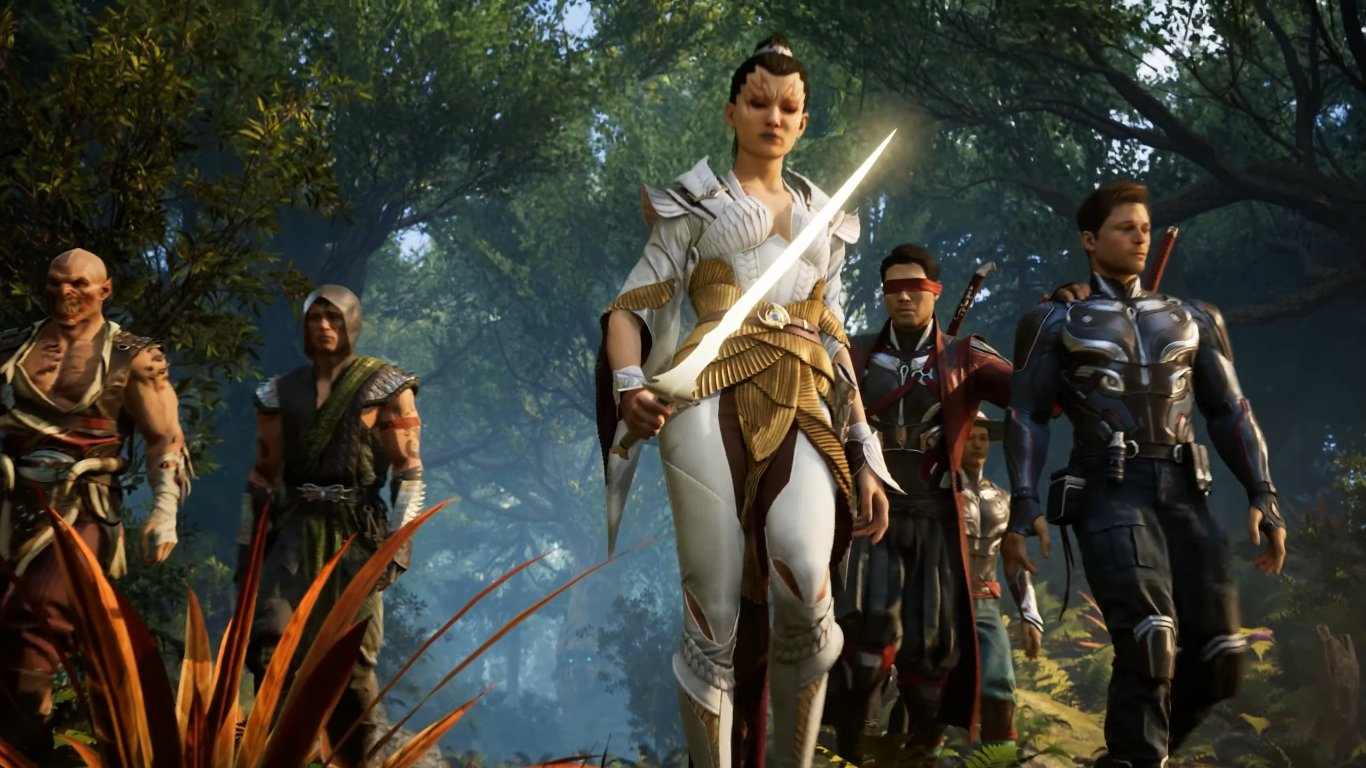 Mortal Kombat 1 has a challenge with telling too much and not showing nearly enough. Once more, we didn't get to see Ashrah discovering the truth about the realms, finding Datusha, or killing her sisters. They did not have time for that, okay. Frustrating, but understandable. However, they never act upon the things they tell us. Two examples:
Quan Chi: Ashrah served as Quan Chi's slave, just like the other members of the Sisterhood of Shadows. The battle between those two forces was one that fans were expecting and one that should have felt cathartic. Finally, Ashrah got her freedom! Instead, their battle starts and ends like any other fight in the game.
Sareena: In Ashrah's ending, we see her meditating at the Wu Shi Academy when she suddenly decides to rescue Sareena. Ashrah claims that Sareena deserves to be saved even more than she did. Why? On that note, why is Sareena so important to Ashrah that she's willing to go back to the Netherrealm and face the Sisterhood on her own? Now, I like them as Sisters. I truly do. But the problem is that Ashrah and Sareena never interacted in the story. Not a word. Not even a glance!
Imagine this scenario: Ashrah meets Quan Chi in battle. Sareena is by his side, the struggle visible as she wishes to join Ashrah, but is trapped by Quan Chi's mind control. Ashrah sees her pain and swears to kill the Sorcerer for all the pain he has caused them both and the rest of the Sisterhood (Ashrah mentioned her pain at having to kill Kia and Jataaka, so we would expand on that). The fight ends with Ashrah victorious. Kenshi tells her not to kill Quan Chi, but Ashrah's demonic nature seizes control (in one of her intros with Liu Kang, she mentions how the "battle between good and evil" is fought within her, another facet of her personality we never got to see), stabs Quan Chi, and would've killed him if the others had not joined forces to pin her down. Quan Chi remains alive, but surprise – his defeat has freed Sareena! She can now join Ashrah, so they can frustrate Quan Chi's plans together.
What I am trying to illustrate is that it would not have been hard to anchor players emotionally into Ashrah's journey and character. All we needed was a little more effort from the writing team.
And that is without mentioning two other elements: Nitara and Datusha.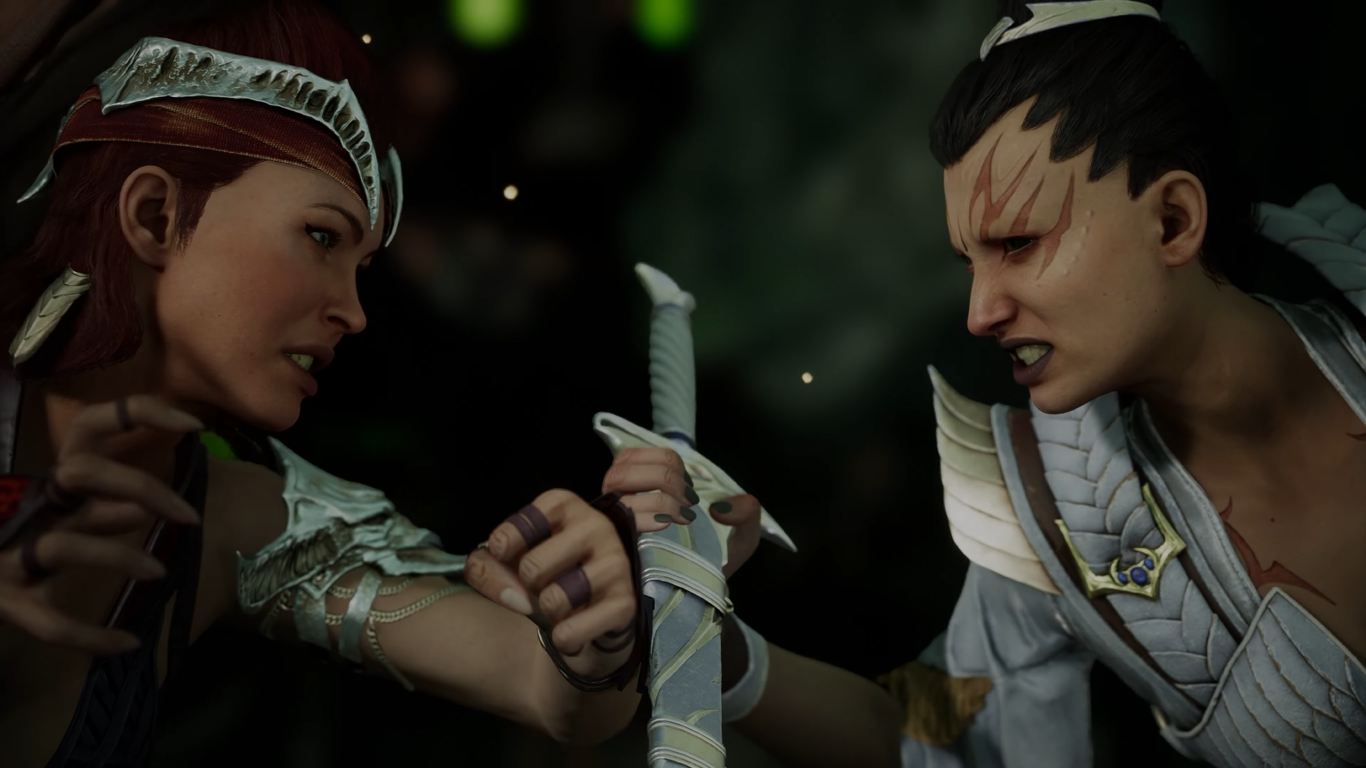 NetherRealm made the conscious choice to show Ashrah in Nitara's trailer. They knew that seeing them clashing and hearing Datusha's name would make fans excited for the return of their rivalry and the bloodsucking sword. In the game, however, the story cared for none of that.
While there is a possibility that Datusha is not wholly angelical (if it is true that it was created by the Kafallah warlocks, and if they retain their backstory as scheming sorcerers who were banished from Outworld), we never once get any concrete hint of its second nature. Nitara, bless her, is utterly useless in the story. From "Heroine of Vaeternus," as her bio described her, to a generic vampire villain. For a game that prided itself in revisiting rivalries and turning them on their heads, Mortal Kombat 1 spent zero effort in Ashrah & Nitara.
Even if we take Datusha out of the equation, there is still potential for Ashrah and Nitara because those two complement and contradict each other In a way, they're both angel and demon: Ashrah seeks purification (including physical purification) while Nitara is this beautiful woman who embraces her darkness. There is so much a good writer could have explored with this dynamic. They could have learned and evolved so much with each other.
The rivalry – and rivalry-turned-friendship – could have explored a story element that I mentioned above: Ashrah's dual nature. Yes, she is a demon hunter seeking absolution. But she is also a demon. In an intro with Liu Kang, Ashrah wonders why "the battle between good and evil" must be fought inside her. But must it, really? If so, where's this beautiful contradiction? Why don't we see it anywhere? The only "demonic" feature we see is in her gameplay when she "taps into her dark side," and not even that is explained in the story.
When Susan Eisenberg was announced as Ashrah's voice actress, fans started joking that Ashrah was Wonder Woman (Susan played Wonder Woman in both Injustice games and other pieces of DC media). Turns out that's what NetherRealm is aiming to do: transform Ashrah into a Wonder Woman facsimile. And that is a terrible shame. Not because Wonder Woman is a bad character or a bad reference. But because Ashrah deserves to be her own unique character.
One last topic I would like to touch upon: her "romance" with Syzoth aka Reptile. I put "romance" in quotes because, for me, this is nothing but an extremely lazy and apathetic way the writer found to add easy dialogue lines and offer an excuse for character development. It does a disservice to both characters.
Syzoth has just discovered that his wife and son are dead; the wife and son he slaved away to protect. In what world does Dominic live in that he thinks it's cute to put this widowed, grieving character in a relationship? He has so much going on for him with the mystery surrounding the extermination of Zaterrans like him and his job as Outworld's emissary; why not let him avenge his family and hunt down the exterminator?
Ashrah has so many fascinating things about her that were left unexplored. And it is more insulting because this supposed "connection" between them does not appear anywhere else. Not a hint in the story, not a whiff in either character's ending. And while Syzoth is an established character, this relationship might and likely will hurt Ashrah. He might easily obscure her (as I have seen happening with a lot of people saying they're curious about Ashrah's future because they want to see where she's going with Reptile); she, who should be much more than someone's partner.
And it's not about who the partner is. Ashrah shouldn't be in a romance with anyone, at least not yet. Think about it: she became a slave under Quan Chi's authority. She just left an eternity of misery and suffering in the Netherrealm. She hates herself so much she's on a quest to change her nature. How can this kind of person be in a relationship? It feels terribly wrong and insensitive.
Here's what the writer should have done: focus on healing Ashrah through connections. Make Sareena Ashrah's anchor (and vice-versa). Dominic had such a splendid opportunity to give us an emotional sisterly bond between those two, and he, unsurprisingly, ignored it. Then, allow Ashrah to forge a sibling relationship with her other allies – that would be the best way to develop that group that faced Quan Chi. Ashrah left the Sisterhood of Shadows where she was a slave. Allowing herself to form a true "sisterhood" with Syzoth, Baraka, Johnny, and the others would've done so much to heal her. Let Master Kai be not only a teacher but also a paternal figure – it's clear from intro dialogues and in-between round dialogues how much Ashrah respects and admires him.
After all that, and once Ashrah establishes herself as her own character – perhaps as this fierce but fair leader of the Order of Light, gathering allies throughout the realms as she smites evil -, if you want to give her a romance, go ahead. But don't waste her. Ashrah can be so much more than what NRS is turning her into.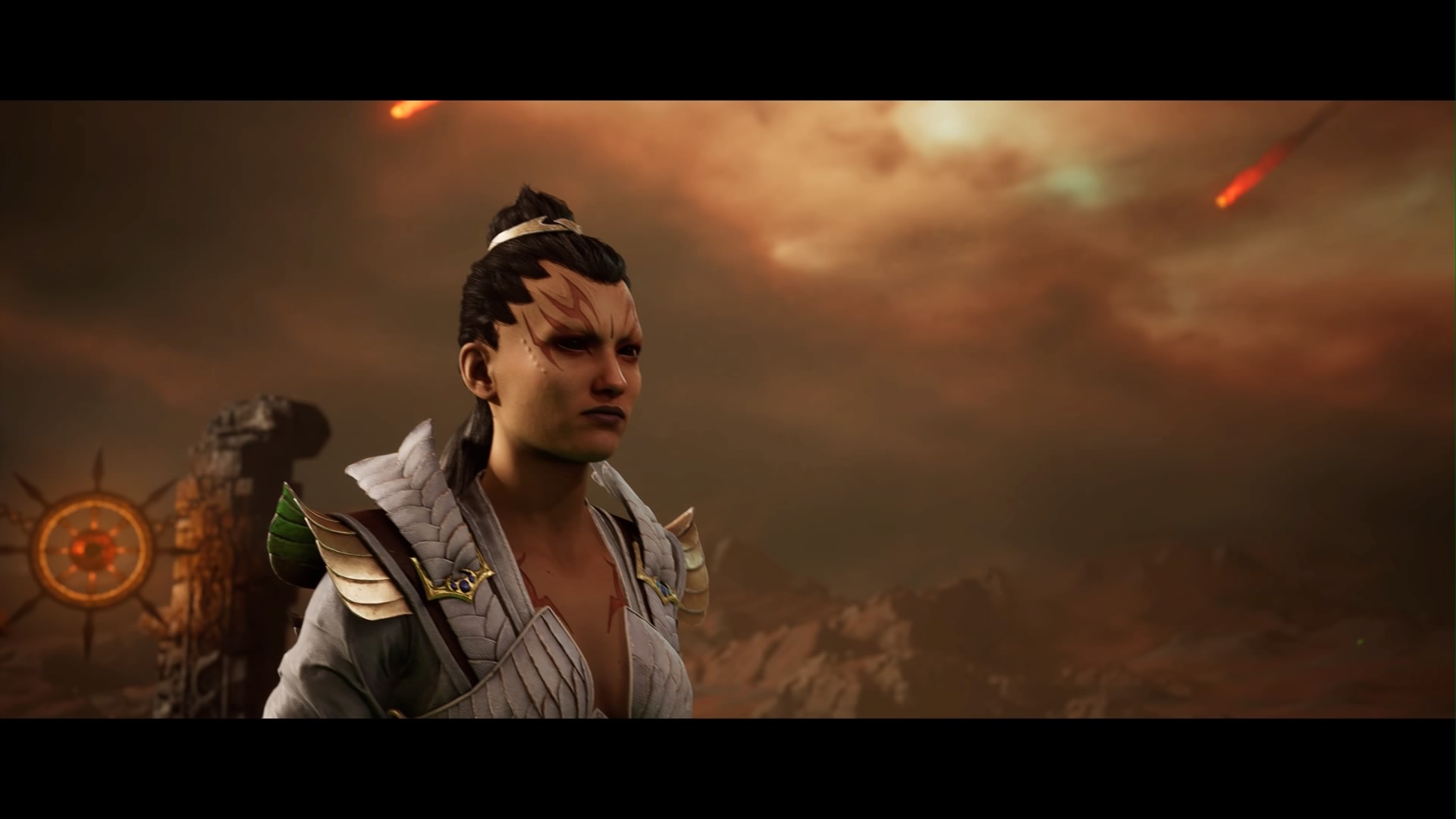 Some people are still optimistic about her future. I cannot be one of them, though I'd love to be proven wrong. For now, what I can say is that NetherRealm let me down. The feeling I am left with is that they yielded to the pressure of bringing these 3D-era characters back but did not care to properly understand or develop them. It is no surprise that Ashrah is never seen again after she arrives in Earthrealm. After 17 years, she is still trapped in character development hell. For me, without Datusha (the OG Datusha) and with the forced romance, this version of Ashrah is less interesting than the original. She is… bland.
And she deserved much, much more.
What are your thoughts on Ashrah's story? Be sure to join our incredible kommunity by joining our Discord server and following us on our social media accounts, which include X, Instagram, Threads and YouTube.